Het registreren van afwezigheden werd volledig vernieuwd. Vanaf dit schooljaar geven leerkrachten vanuit de klas door welke leerlingen afwezig of te laat zijn, rechtstreeks vanaf hun smartphone, tablet of computer. Smartschool verhoogt opnieuw het comfort : gedaan met papiertjes invullen en ophalen!
Mooi en duidelijk
De interface werd volledig vernieuwd en is gebruiksvriendelijker dan ooit! De integratie met het leerlingvolgsysteem en Discimus spreekt voor zich. Duidelijke overzichten zorgen ervoor dat het werken met deze module een plezier is.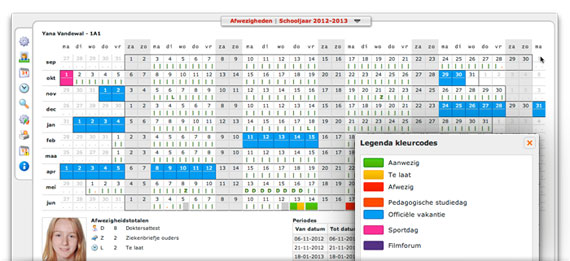 Klaar voor de toekomst
De mogelijkheden zoals, controles, brieven, lijsten, snelle overzichten en een zoekfunctie spreken voor zich. Wat dit systeem écht uniek maakt is de onafhankelijkheid van tijd en plaats. Waar je ook bent, je hebt steeds toegang tot de gegevens. Leerkrachten en administratieve medewerkers kunnen afwezigheden zelfs opnemen vanaf een tablet of smartphone. Met Smartschool is je school klaar voor de toekomst!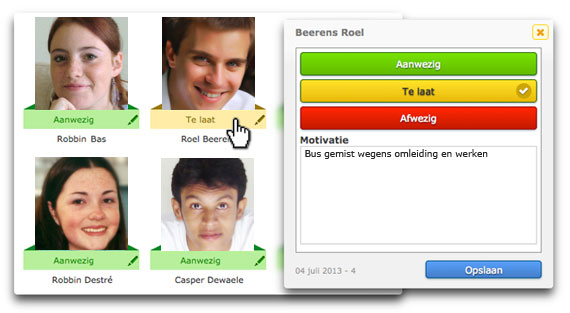 Mogelijkheden in een notendop
Geen meerkost! Standaard aanwezig in het basispakket van Smartschool.
Koppeling met Discimus
Beschikbaar op smartphone, tablet en browser
Naadloze Integratie met het leerlingvolgsysteem
Snelle controle van afwezigheden
Brieven en lijsten afdrukken
Degelijke handleiding
Zowel voor basis- als secundair onderwijs
Je planlast opnieuw verminderen
…
Beschikbaar voor Android en iOS
Het opnemen van afwezigheden kan met de Smartschool App voor iOS (iPhone, iPad, iPod Touch) en Android. Als je afwezigheden kan opnemen via de browser, kan dit ook via de Smartschool App. Je Smartschoolbeheerder hoeft geen bijkomende instellingen maken. Afwezigheden registreren was nooit zo eenvoudig!


https://www.smartschool.be/wp/wp-content/uploads/2013/08/afwezig_blue.png
85
85
Smartschool
https://www.smartschool.be/wp/wp-content/uploads/2018/09/smartschool-logo_340x120.png
Smartschool
2013-08-30 14:07:33
2018-04-30 16:12:30
Afwezigheden registreren in Smartschool doe je zo!