Iedereen heeft binnen Smartschool een eigen map 'Mijn documenten'. De bestanden in deze map kunnen eenvoudig geopend en gewijzigd worden op je iPad. Hoe je dat doet, lees je in dit bericht.

De WebDAV-URL
Je map 'Mijn documenten' kan via de WebDAV-technologie ook buiten de browser geopend worden. Op je Windows-computer gebruik je daarvoor Netdrive. Op Mac gebruik je best Transmit. Linux ondersteunt dit zonder extra software.
De URL ziet er als volgt uit: https://webdav.schoolnaam.smartschool.be waarbij dat je schoolnaam vervangt door het subdomein van je eigen school.
Je hebt de Smartschool App niet nodig voor het werken met bestanden op je iPad. In deze korte handleiding tonen we hoe je dit opzet.
WebDAV Apps
Er zijn tal van Apps waarmee dat je een WebDAV-koppeling kan realiseren:
Zoek gerust op WebDAV in de App Store. Je vindt er zeker een geschikte toepassing.
Als je gebruik maakt van Pages, Keynote of Numbers op je iPad kan je ook vanuit deze Apps een document vanuit Smartschool openen, wijzigen en bewaren.
Een concreet voorbeeld (iFiles)
1. Open iFiles.
2. Druk op de + in de linkerbovenhoek en kies uit de lijst 'WebDAV'.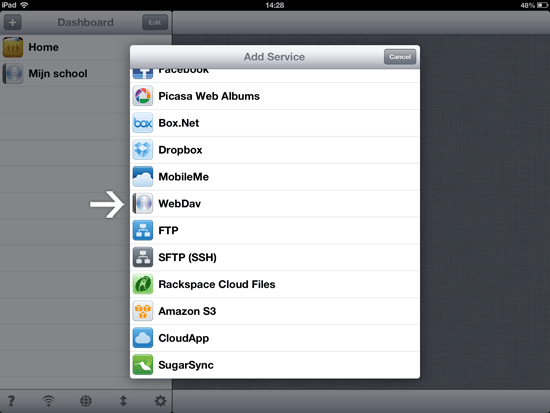 3. Vul de opties in het menu in zoals op het screenshot.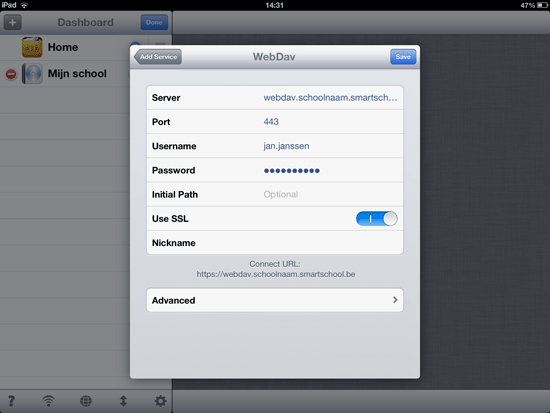 4. Wijzig de net toegevoegde optie door in de menubalk op 'Edit' te drukken. Zet de optie 'Allow Untrusted Server Cerificate' aan. Laat het 'Initial Path' zeker leeg.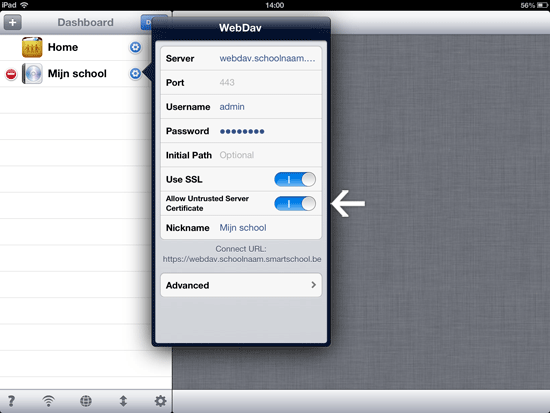 5. Vervolgens druk je in de menubalk op 'Done'.
6. Druk op 'Mijn school' of de naam die je er zelf aan gegeven hebt.
7. Druk op 'Home' in het onderdeel 'Places'. Je mappen en bestanden verschijnen nu aan de rechterkant.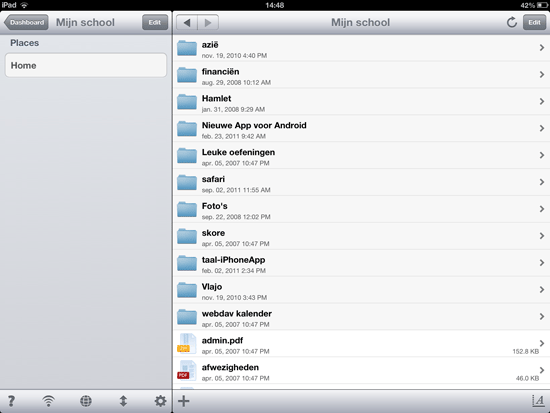 8. Je kan nu je bestanden openen, downloaden, kopiëren … Raadpleeg de handleidingen van iFiles voor meer informatie.
Een bestand bewerken in Pages en terug uploaden naar Mijn documenten
1. Open Pages.
2. Druk op de + in de linkerbovenhoek.
3. Kies de optie 'Kopieer van WebDAV'.

4. Vul de juiste URL, gebruikersnaam en wachtwoord in en druk op 'Log in' (begin de URL steeds met https://).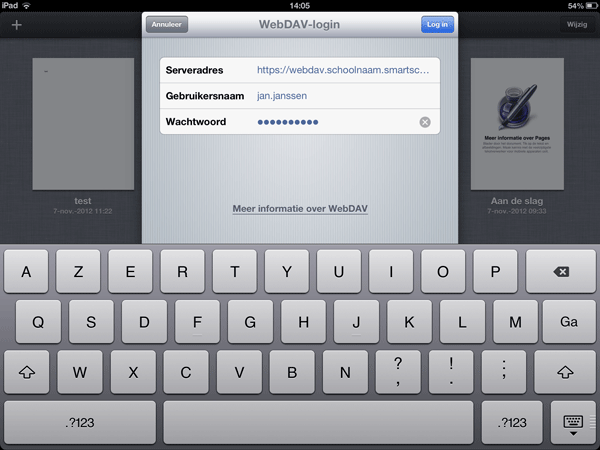 5. Selecteer het bestand dat je wil openen. Kies een bestand dat compatibel is met Pages.
6. Het bestand wordt gedownload naar je iPad. Van daaruit kan je het openen en bewerken.
7. Als je klaar bent, kies je in het menu Extra's voor 'Deel en druk af'. Daarna kies je voor 'Kopieer naar WebDAV'.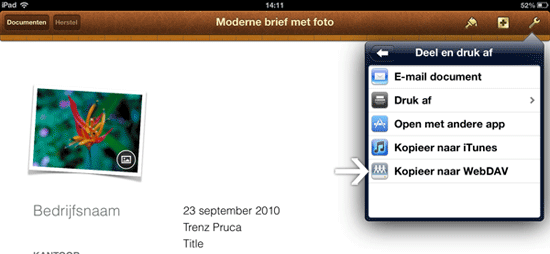 8. Duid de plaats aan waar je dit bestand wilt bewaren.
9. Het bestand wordt nu geüpload naar je 'Mijn documenten' in Smartschool. Van daaruit kan je er verder mee aan de slag.
http://www.smartschool.be/wp/wp-content/uploads/2013/12/mobile_charcoal.png
85
85
Smartschool
http://www.smartschool.be/wp/wp-content/uploads/2018/09/smartschool-logo_340x120.png
Smartschool
2012-11-15 11:45:15
2014-01-20 16:29:23
Vlot werken met je bestanden op je iPad